Birthday Party Information:
Minimum number of children to book party is 5, maximum is 25
Minimum age limit for party is 3 (parents must sit with their child while painting)
Aprons/T-shirts provided
Blow dryers provided to be able to bring paintings home the same day
Paintings take a minimum of one hour to complete (for simpler paintings)
I rent the room for a minimum of two hours, if more time is wanted/needed, $75-100 per hour will be added to the party price
Party prices are as follows:
               Up to 7 children-Ask for pricing
               8-10 children - $225
               11-15 children - $250
               16-20 children - $275
               21-25 children - $325
               26-30 children $375
$100 deposit is required to book the party (paid via Paypal, Zelle or Venmo sending to email: sugarlandart@gmail.com)
Paintings to match your party theme, canvas size 8x10 (there is an extra charge for larger canvas)
Tables and chairs are provided
Food and drinks are allowed (no food or drinks are provided by the Art Center, other than vending machines)
Decorations, plates, bowls, napkins, utensils, and other party supplies are NOT provided
Paper table protectors are provided for painting, if you would like to bring your own, you are welcome to
Sinks available
Cupcake Painting Party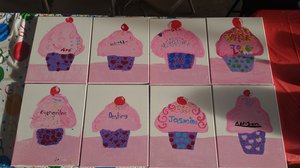 I drew an outline for the children to follow, then I instructed them on how to properly hold and use their brushes as well as clean and care for them.

They then chose the colors that they wanted to use and we went to work painting and decorating their pictures. 

Look at the girls wonderful personalities show in their paintings.

They did a great job!
Barbie Party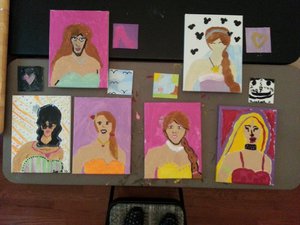 To start, I drew a basic silhouette of a girl, then the girls used the color of their choice to paint the background.

Next, the young ladies picked colors close to their skin and we talked about adding different colors to change the shade to make it closer to the color they wanted.

After they painted the skin, it was time to create the top, hair and facial features. They turned out beautifully.
Boys and Girls Party
Have a mixed group of kids for your next party? 

We have themes for every type of party and can have an appropriate painting for every type of group.
Here are some past favorites:

Adult Paint Parties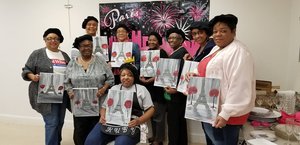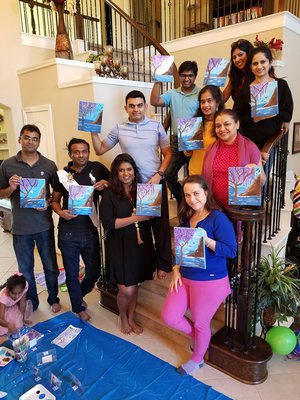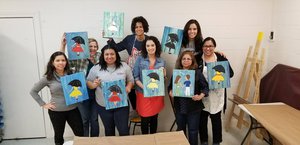 Seasonal Themed Party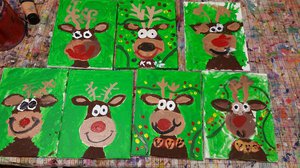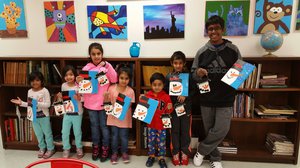 Reindeer were selected for the theme to be painted at the Christmas party.
There are fantastic paint ideas for every time of year:
Fall / Summer / Spring / Winter
Fourth of July
Thanksgiving
Halloween
Christmas
Mother's Day